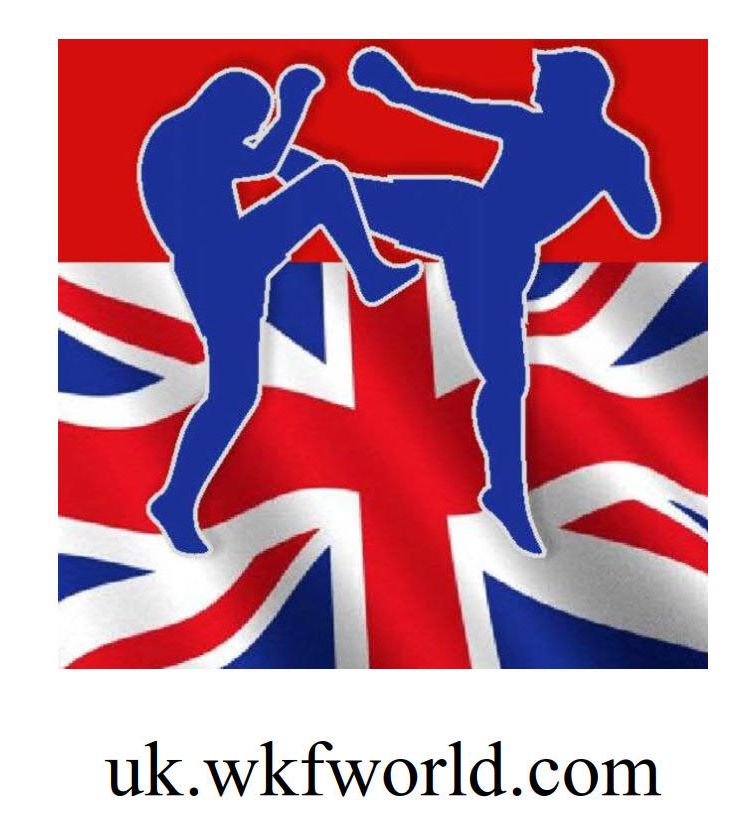 WKF UK president Andy HOPWOOD confirm the negotiations for a UK Champion to fight in Vienna.
KNOCK-OUT sport promotions is one of the oldest promoter on the European market, with more than 150 events in 30 Years of experience.
Date is April 28th and the event and preliminary fight card is already online as well.

This is an international event with Champions from 4 (!) continents. Live broadcast on the Internet !!!
WKF pro World title in Lightheavy – 81,4 Kg / 179 lbs Jarrod HARROD / USA vs. German European Champion Andreas BASTRON.

Plus female professional World Title in low kick ! Africa Nr. 1 Patrizia APOLOT from Uganda in Lightweight – 60 Kg / 132 lbs vs. Swiss Lara COGLIANESE.

Plus WKF PRO-AM European title in low kick in Lightmiddleweight – 71 Kg / 156 lbs Austrian Alexander KRUPIC challenge current European Champion Michal ZAJAC from Poland.
Plus super prestige fight in Superheavyweight + 91 Kg / + 200 lbs  Canadian KO "lumberjack" Devon PELLY vs. Austrian giant Timo GENC
Plus current 6 times World Champion Florian BARTL and  and many more !!!
If you would have any male/female stand up or any MMA fighter contact WKF UK president Mr. Andy HOPWOOD with profile and jpg of YOUR champion.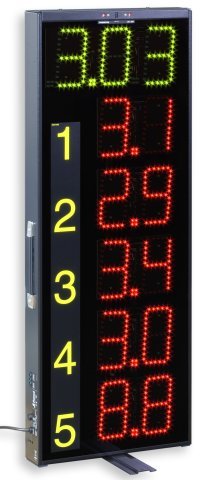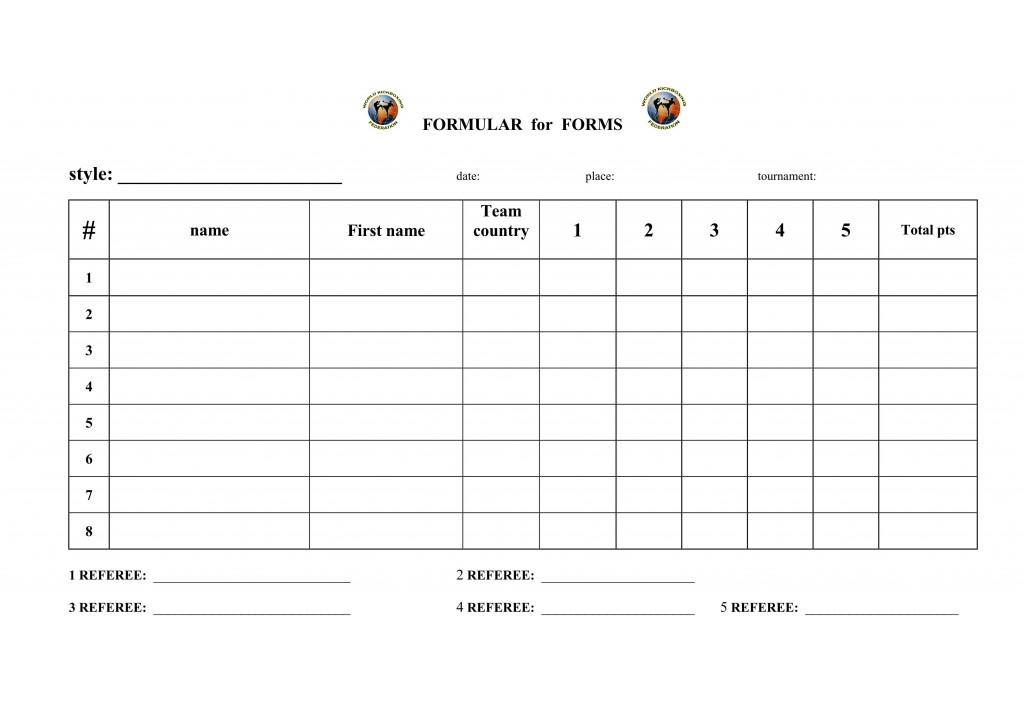 Following many requests from our World wide  WKF members members about forms. We get many inquiries about various competition rules in the WKF.Waiting in 4 languages for your download.
The rules for all WKF Forms in English language are here , in Deutscher Sprache hier. Soon we will have more translations in Russian and Spanish languages as well.
Today, the WKF has 14 various Forms disciplines.
Participants could compete in divisions with and without music, as well as with and without weapons.
Plus, our "creative and freestyle" forms.
Here a small selection of approved Budo weapons.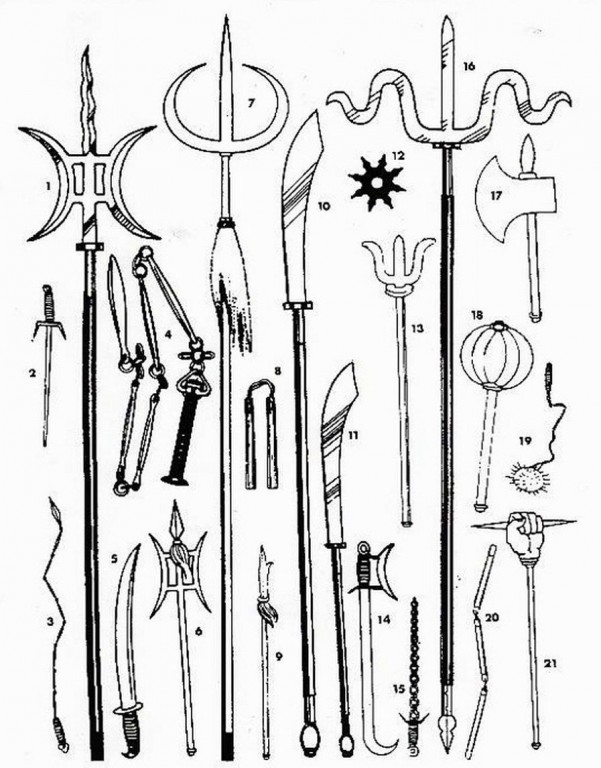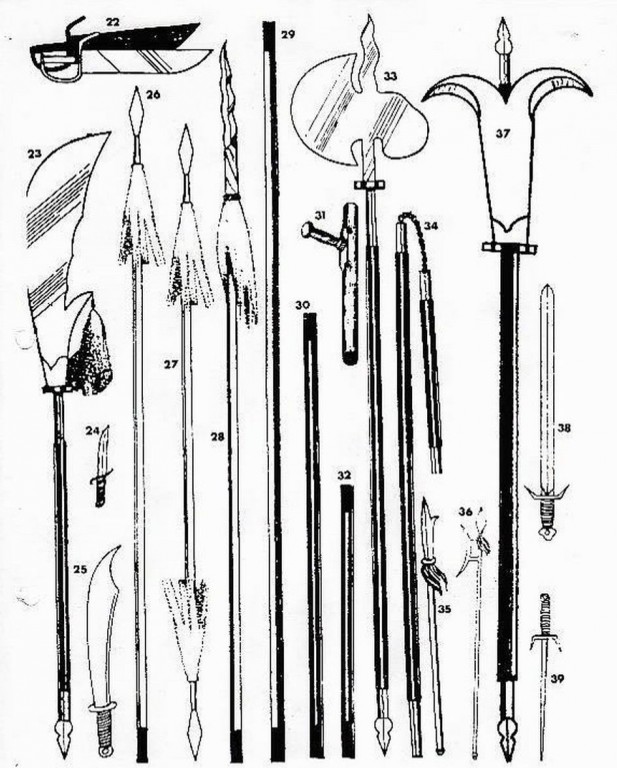 IRC – Internationale Rules Committee –  has on request a list of approved official traditional forms for Japanese and Okinawa Kata. The same list for official forms in  Taekwondo ITF / WTF. Visit our WKF AMATEUR division web site, please
Scoring by 5 international WKF judges. The rating is performed simultaneously and displayed electronically. The highest and lowest score be deleted, the remaining three give the rating to one decimal place. 
If you like to know more about rules and regulations in WKF and to get official referee license join our next World referee Seminar  in Buenos Aires, Argentina.
This is the weekend before the World Championships.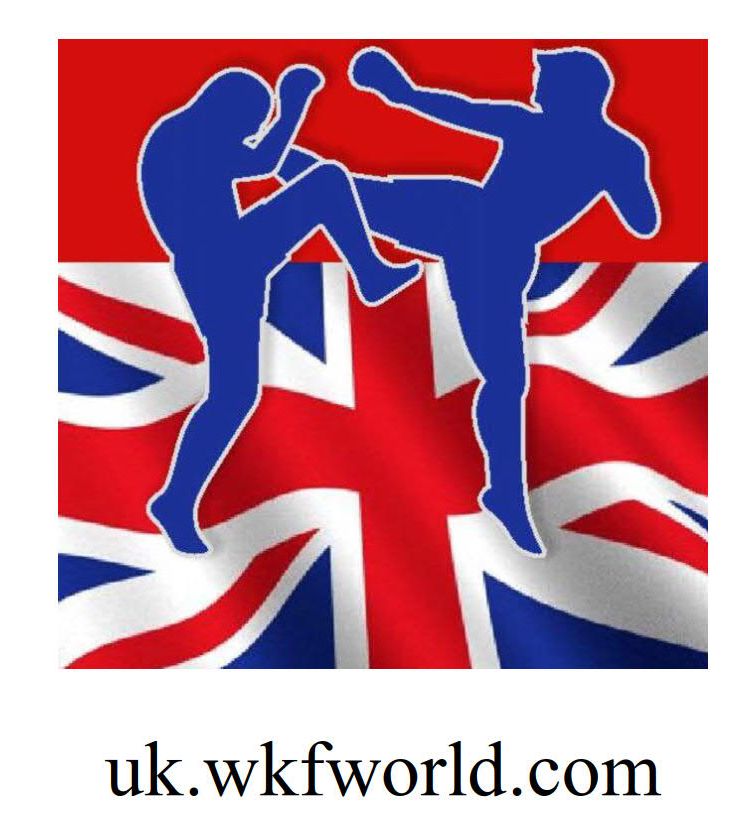 We would like to invite you to the 2018 World Kickboxing Federation UK Referee Seminar in Worcestershire, England.
Schedule: April, Friday 13th to 15th

This seminar is aimed at new referees and existing officials who would like to improve their current skill levels.
This classroom based seminar will encompass all WKF disciplines for amateurs and professionals; Kickboxing, Muay Thai, K1-rules and MMA.
All rule books free to download here !
WKF – World Kickboxing Federation – is one of the greatest and World wide sanctioning body for Kick boxing and MMA in amateur and pro.
On our web site mma.wkfworld.com you could find all important facts and news about MMA in our World sanctioning body.
More than 5000 hits per month is the result of serious and hard work.
Just fill in the new online fighter profile here, add a jpg photo and we will post you in our MMA  European or World ranking.
For any requests contact our MMA head office by mail and visit our main web site   mma.wkfworld.com .
WKF HEAD OFFICE  appointend our WKF ASIA continental president to our WKF MMA Division World president.
This is was a great idea and right step in the WKF ASIAN continental federation.
First time in history a manager from Asia get this high position in a World wide sanctioning body.
Mr. Amir MOSADEGH from WKF IRAN was former World Champion in K-1 rules and his younger brother Mostafa is still our current Champion and fighting for WKF titles.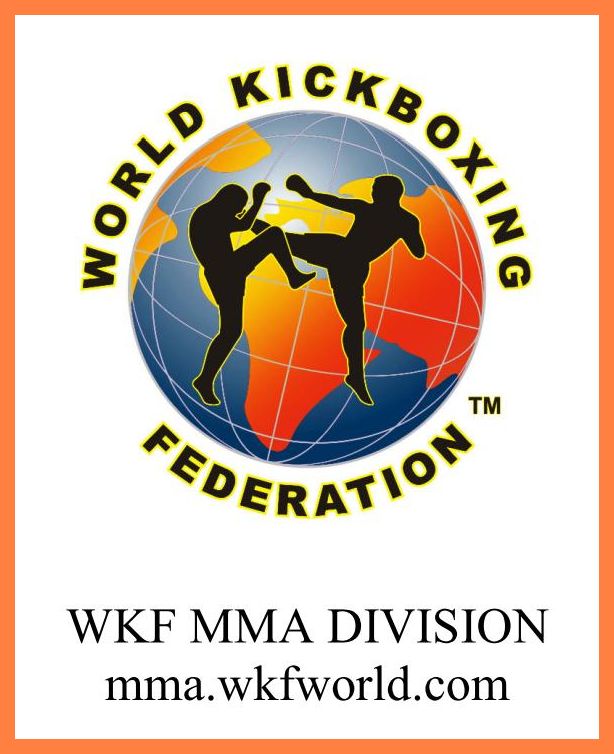 Our new MMA president bring in all the Asian countries in, not just in MMA , but in Kickboxing and Sanda as well. For PRO-AM as well as for real tough professional fighters.
He was promoter for the great WKF ASIAN championships on Kish Island in Iran, with 2.700 (!) fighters. So many high class VIP guests, from Iran politics, sport and martial arts. Many our WKF presidents was there as well, like e.g. Mr. Dawood HASHIMI from WKF AFGHANISTAN, and others.
For all MMA business in WKF contact Mr. Mosadegh by mail, he will answer ASAP.
Deshire KURTAJ is current WKF K-1 World Champion in Featherweight – 119 lbs / -54 kg and one of best WKF young talented female fighter.
In GBF – Global Boxing Federation. -125 lbs /-57Kg she is K1 World Champion as well.
In the last 6 month her management in Vienna, Austria, got many good fights for her around the World.
Just from UK promoters comes so many requests, but like a miracle this fights never happens.
Many apologies and many reasons why this world title "has to be postponed again and again".
Tired of this promises the Austrian promoter  and manager www.octagon.at is looking again for upcoming PRO-AM World title fights. Send your request with photo and profile by mail.
If YOU are a real and serious promoter and want to invite this young tough girl contact her management, please. Events web site on www.knock-out.at
Austrian young talented 19 Years old Florian BARTL  fight in light heavyweight – 81Kg / 178 lbs. His fight record today is 20 wins and just 2 lose. If you have a tough fighter and if you are interested in this fight too send profile and photo to the Austrian promoter by mail.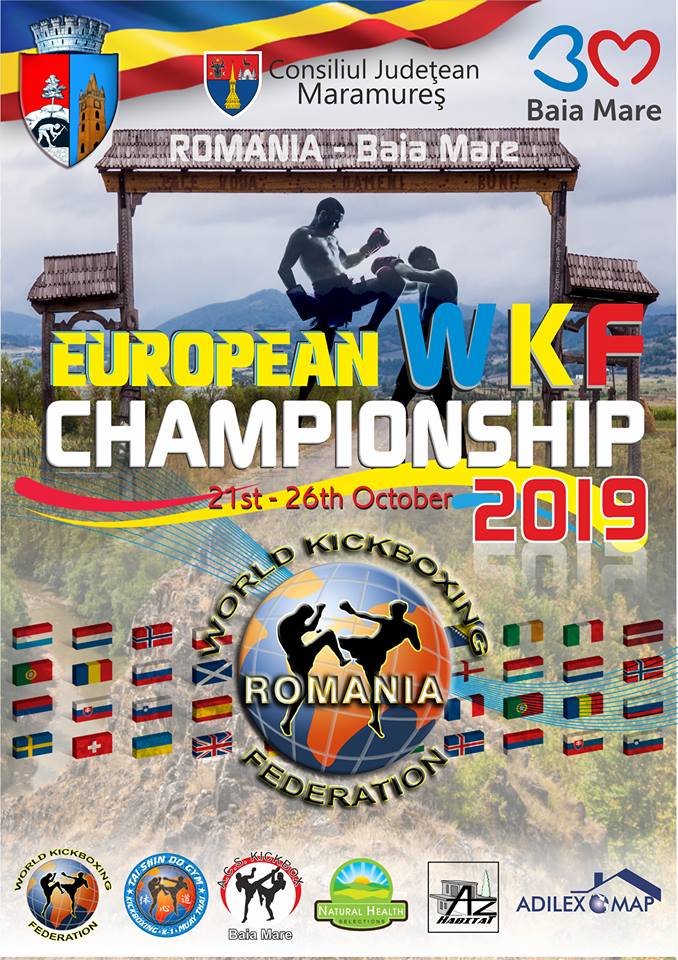 WKF ROMANIA president Florin MINA announce next European Championship 2019 in Baia Mare.
From October 21st to 26th our European WKF family meet in beautiful Romania.
Over 30 countries will participate and there will be matches from kids to juniors to seniors.
In the final day will be 12 fights with important and great fighters like Cristian "The Fastest"Milea, Alexandru "Wolfman" Popescu, Delia "Akihito"Georgescu and many others.
For full information, Hotel booking and more contact Mr. Florin MINA by mail.
World
Championship

Dear friends in sport,
WKF ARGENTINA is putting all the team's energies into the preparation for this upcoming championship, so that everything that is being offered in this great event becomes a flawless reality.
Each athlete, nonstop but at their own pace, goes around the world seeking in  different places for new sportive experiences that will allow them to reach a personal fulfillment.  Because of this, our organization, wishes to  deliver an opportunity to those who are looking for this sort of experiences and achievements.
Just the weekend before is the upcoming WKF World referee seminar, best chance to get or extend international Referee license as well.
We look forward to having every country from the WKF family -from competitors to professors, judges, trainers and athlete's families- joining in this intense competition, seizing as well the opportunity to meet our local landscapes and incredible sightseeing places of our beautiful country, given the favourable exchange rate of our currency.
Our organization is deeply submerged in addressing the best in us to provide you with a great proposal as thisnext Championship in Argentina is aiming to be,  focusing on creating a joyful space to bind, making the experience an unforgettable collective experience along together with all of our brothers from foreign lands.
We are looking forward to receiving  you in Buenos Aires, Argentina.
Sincerely yours,
Carlos Suarez
Organizing Committee
WKF Argentina Representative
South American Division
For new sports passes or current annual stamps, please fill in the FIGHTER PROFILE , add a jpg Photo at and show your fighter license by registration in the venue.